It's like Canal Boat time travel. Seeing Britain from a canal boat offers a unique view of English vistas tied resolutely to their historical past, whilst providing both accommodation and transport at the wonderfully slow five kilometres an hour. We started our family holiday in the UK with 10-days around the Birmingham canals in a deliberate attempt to curb that initial rush at arriving somewhere new.
My mum had suggested a hire boat trip on the Norfolk Broads as she had done in her travels. In my web research for a hire boat, I caught a glimpse of a fancy narrowboat, so I followed it. I get distracted by shiny objects. That led to photos of quaint canal-side pubs, lush countryside, and grainy black and white images of laden narrowboats being towed by horse past smoky factories. Extending my research to YouTube, I found fascinating historical information with time-lapse footage of whole routes and family holidays where everyone was smiling. I was sold.
Canal Boat Time Travel: For a brief period between the 1790's and the 1810's, Britain was engulfed in Canal Mania, driven by transport needs for products resulting from revolutionary new production techniques. At the peak of the industrial revolution in 1840, there were nearly 4,500 miles (7,200km) of canal throughout England, Wales and Scotland. Very impressive; when you consider that every inch was hand-dug by navvies. There are still 2,000 miles (3,200km) of canals in England and Wales, and a few in Scotland. However, they now transport tourists; instead of coal, pottery or textiles.
All of our inquiries were done from Australia. Investigating what route to take led us to searching for a "ring route" so we wouldn't backtrack. We narrowed our search by looking for a quiet route, finally settling on Birmingham. It is said to "have more canals than Venice", with just over 100 miles/160km, in a region that was really at the heart of the Industrial Revolution. We settled on the Stourport Ring, which takes in five different canals and the River Severn over 10-days, and starts in Tardebigge.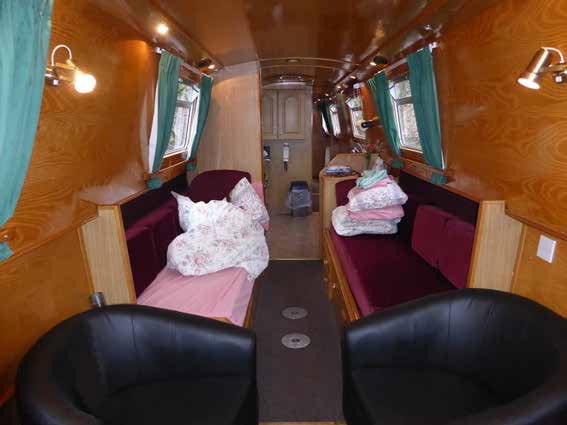 Our 62-foot 4-berth narrowboat, the Silver Ghost, had a separate double berth room, two settee berths, a well-appointed galley, and a fully functional toilet – with both shower and bath! The diesel engine also supplied electricity and central heating. Everything was cleverly designed with the novice in mind. Whilst ungainly, such vessels are also slow, which helped ensure an incident-free journey. By the end of it I felt like an old sea dog.
The one thing that I was most unsure of, despite having consumed all of the 'how-to's' on YouTube, was the operating of the pound locks. They are an ingeniously simple method of driving a boat up and down hills! The one-gated Flash Lock was invented by the tenth century Chinese engineer Chiao Wei-yo, whilst building the Great Canal in China. That design was improved upon by adding a second gate, eventually arriving at the current Mitred Gate design in 1500, by none other than Leonardo Da Vinci. Locks involve driving your boat into a snug fitting enclosure, closing the door behind you, then either filling (going uphill), or emptying (going downhill) the lock, until the water level on the both sides of the gate is even. My concern was unfounded as they were extraordinarily simple, and we ended up going through seventy nine of them. They were yet another way of slowing us down to take in the view; which often included a charming deserted lock-keeper's cottage, from an era when the traffic warranted manned locks.

One of the most distinctive features of any canal is the ever-present towpath along the banks, inherited from the days of horse drawn boats. Today they are utilised by locals as a walking or running track, as a fishing vantage point, or as a means of getting from A to B. For us they meant that we could pull over anywhere on our route; to stretch our legs, explore, or visit some nearby attraction. They also gave us access to canal-side pubs, and therefore the opportunity for complete immersion in the local culture.
In these idyllic environments of yesteryear, we ate, drank pints of the local brew, recharged our laptop (the boat was 12V), used their free Wifi, and generally soaked up the quintessential goodness that is an English pub. Afterwards, it was easy to stagger back to our floating accommodation to sleep. As a result, we only cooked one evening meal in our ten days.
Other fascinating parts of the canal system are the aqueducts. They are the canal bridges that carry your boat over rivers, highways, railways and even freeways. The most famous of these is the Thomas Telford designed Pontcysyllte Aqueduct in Wales. It is over 300 metres long and 38 metres high. Canal boats have been this aqueduct to traverse the River Dee for over 200 years. When aqueducts are not going over head, they are going underground. The longest tunnel we went through was Wast Hill Tunnel, at an impressive 2,493-metres long. We spent over half an hour staring through the darkness for the light at the other end. The longest canal tunnel in Britain is the Standedge Tunnel, at over 5 kilometres long.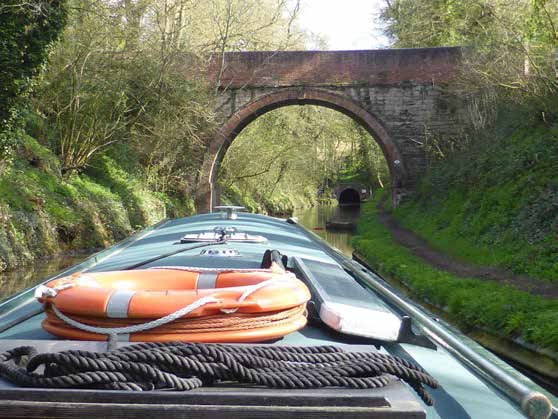 Our route took us under countless bridges, from modern freeways through to one-lane 19th-century bridges leading into postcard little villages. Farms have bridges to allow access to fields, including one we passed that swung across the canal only when required. We had just one overnight in the centre of Birmingham, amongst the hustle of tourists and locals at restaurants and bars. After diverting from our initial plan, we spent the rest of our time afloat in the serene countryside following the Black Country Ring through rural areas and country canal-side pubs. We visited historical Shugborough Estate. We strolled through villages and cities. We shopped in Birmingham's famous Bull Ring- passing but avoiding the touristy Cadbury Factory Tour. Overall we slowly introduced ourselves to the delights of a country that we had heard a lot about throughout all our lives in Australia. The weather in April held up beautifully, with only one day lost to rain. As you might have already guessed, we spent it ensconced in front of a fire in a canal-side pub! What really surprised us was the lack of other boats out and about. Even with the small increase in traffic over Easter, we seemed to have the canal to ourselves for much of the time. When we did pass other folk, they were friendly and full of canal camaraderie – even when I mentioned cricket!